General Dentistry
Frye Dental Group is a superior provider of general dentistry for patients of all ages. Our general dentistry focuses on prevention, diagnosis, and treatment of a wide variety of conditions, disorders, and diseases affecting the teeth, gums, and maxillofacial (jaw and face) parts of the body. We provide preventative care and minor restorative therapy, as well as minor cosmetic treatments.
Hygiene Maintenance Appointments
Frye Dental Group takes an in-depth approach to our patients' treatment. We are constantly striving to advance the standard of patient care we offer. We recommend regular hygiene maintenance appointments that include:
Health History Check: This includes a blood pressure check and will help us better understand your general health as it relates to your dental health.
Oral Cancer Screening: For early detection of abnormal tissue.
Caries (cavity) Exam: To detect decay at various stages. We utilize both clinical, radiographic, and laser diagnosis (Diagodent).
Diagnostic X-rays: Used as an aid in diagnosing decay, periodontal health, abnormalities of tooth and bone, eruption patterns, and impacted teeth.
Intraoral Pictures: Utilizes a small camera on a wand to capture images of intra- and extra-oral structures. These images may be viewed on a chair side monitor.
Periodontal Screening: To monitor the health of the gums and bone surrounding teeth.
Localized Antibiotic Therapy: As a treatment in periodontal therapy, an antibiotic is placed below the gum line to treat localized areas of infection.
Scaling/Polishing: To remove hard and soft deposits from the teeth.
Topical Fluoride Treatment: Fluoride treatment is one of the most effective ways to prevent tooth decay and sensitivity.
Home Care Instructions: Patients will be given recommendations for continuing dental care at home.
Fillings
For treatment of cavities, Frye Dental Group uses tooth-colored fillings, or composite resins. They provide a natural finish and are durable and resistant to fracture in small to mid-size fillings. While we encourage patients to care for their teeth in a way that prevents cavities, patients appreciate our tooth-colored fillings for their cosmetic appeal.
Root Canals
Root canal therapy is a remarkable treatment with a very high rate of success, and involves removing the diseased tissue, halting the spread of infection and restoring the healthy portion of the tooth. Most patients who have a root canal experience little or no discomfort or pain, and enjoy a restored tooth that can last almost as long as its healthy original.
CEREC One-Visit Crowns
Crowns are synthetic caps, usually made of a material like porcelain, placed on the top of a tooth. Crowns are typically used to restore a tooth's function and appearance following a restorative procedure such as a root canal or to prevent a cracked tooth from becoming worse. When decay in a tooth has become so advanced that large portions of the tooth must be removed, crowns are often used to restore the tooth. Frye Dental Group uses advanced CEREC technology to prevent the 2–3 week process of typical crowns. Using computer-aided manufacturing (CAM) and computer-aided design (CAD), we can complete crowns in one visit! This revolutionary technology saves our patients time and multiple dental visits while providing long-lasting restorations.
Implants
Implants are synthetic structures that are placed in the area of the tooth normally occupied by the root. They are anchored to the jawbone or metal framework on the bone and act as a foundation for an artificial tooth or permanent bridge. Implants are so well designed that they mimic the look and feel of natural teeth. Implants are usually made of a synthetic yet biocompatible material like metal or ceramic.
CEREC Computer-Generated Guides for Implants
Frye Dental Group's advanced implant technology allows us to provide restoration with greater accuracy. Using a 3-dimensional digital image of the mouth, we are able to see the structures beneath the teeth and gums, which helps produce surgical guides for optimal placement of the final restoration. The precision of our technology reduces risks of complications and allows for more predictable results, providing our patients the best opportunity for a satisfying outcome.
Dentures
A denture is a removable replacement for missing teeth and adjacent tissues. It is made of acrylic resin, sometimes in combination with various metals. Complete dentures replace all the teeth, while a partial denture fills in the spaces created by missing teeth and prevents other teeth from changing position.
Implant-Borne Dentures
Instead of a regular denture that sit on the gums, an implant-borne denture is a type of overdenture supported by and attached to implants. This type of denture is used for patients who do not have teeth in the jaw but who have adequate bone to support implants. Implant-borne dentures have attachments that snap into the implants, making these dentures more stable than regular dentures.
Locator-Supported Dentures and Partials
Frye Dental Group's advanced technology allows us to offer Locator-supported dentures and partials. This versatile overdenture attachment system is used for both traditional and natural implants, allowing some patients to retain the underlying bone structure of their natural tooth. Locator-supported dentures offer more stability than traditional dentures and are resilient during chewing. These overdentures are also self aligning, helping patients to easily place them in the proper location.
Digital X-rays
Dental X-ray is a pain-free method to help dentists identify problems such as cavities, gum disease, and some forms of infection by allowing them to see inside the tooth and the bone and tissue beneath the gums. Frye Dental Group uses in-office digital X-ray technology, which provides significantly less radiation and saves time.
3D Imaging
Frye Dental Group uses 3D imaging technology to provide a superior view of patients' oral health. Instead of the 2D view offered by X-rays, 3D imaging provides a precise 3D view of the mouth, which is more efficient and more in-depth than other methods for viewing the mouth. This technology is commonly used for patients who are receiving cosmetic/restoration or implant treatment.
Extractions
When restoration procedures such as root canal therapy, crowns, or fillings are not enough to save a tooth, it may need to be extracted. Teeth may also be extracted for crowding issues. Tooth extraction procedures today are far less painful than ever before, thanks to powerful anesthetics and sedatives. Two types of extraction:
Simple: Simple extraction is the removal of a tooth that is visible above the gum line using forceps.
Surgical: Surgical extraction is done when a tooth is covered partially or fully by a layer of gum, requiring the dentist to remove tissue or bone to complete the extraction. This procedure is completed under general anesthesia.
Bone Grafting
When adult teeth are lost, the natural process for bone growth stimulation no longer occurs, which can result in bone loss in the jaw. Consequences of bone loss include changes to facial appearance and limited choices for tooth replacement. Bone grafting is a procedure that places a platform in the area for new bone to grow upon. The new bone will eventually replace the graft and can help ensure enough bone is present for implant procedures.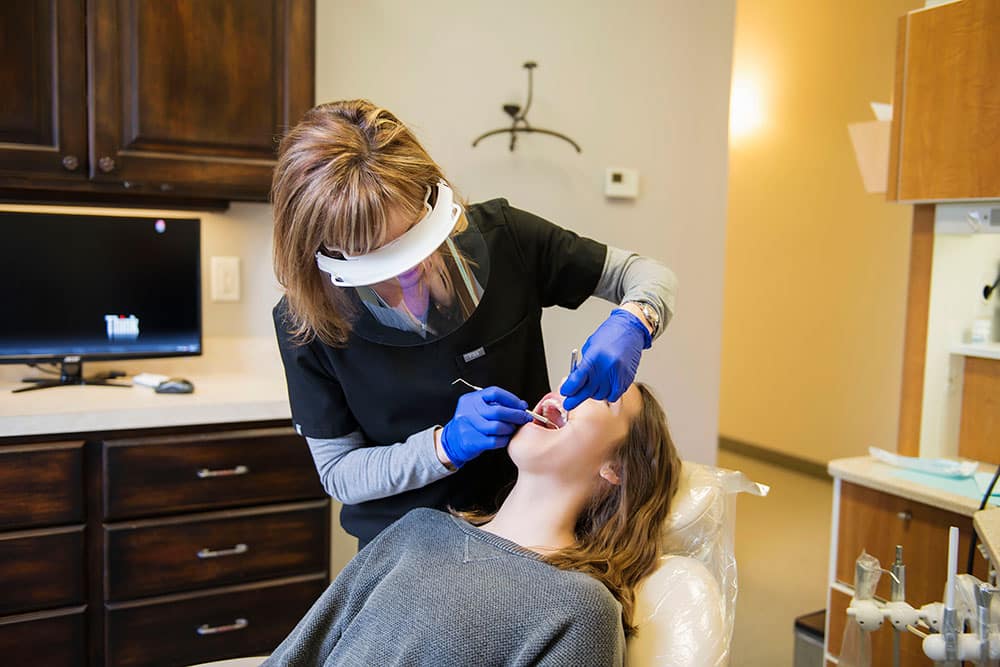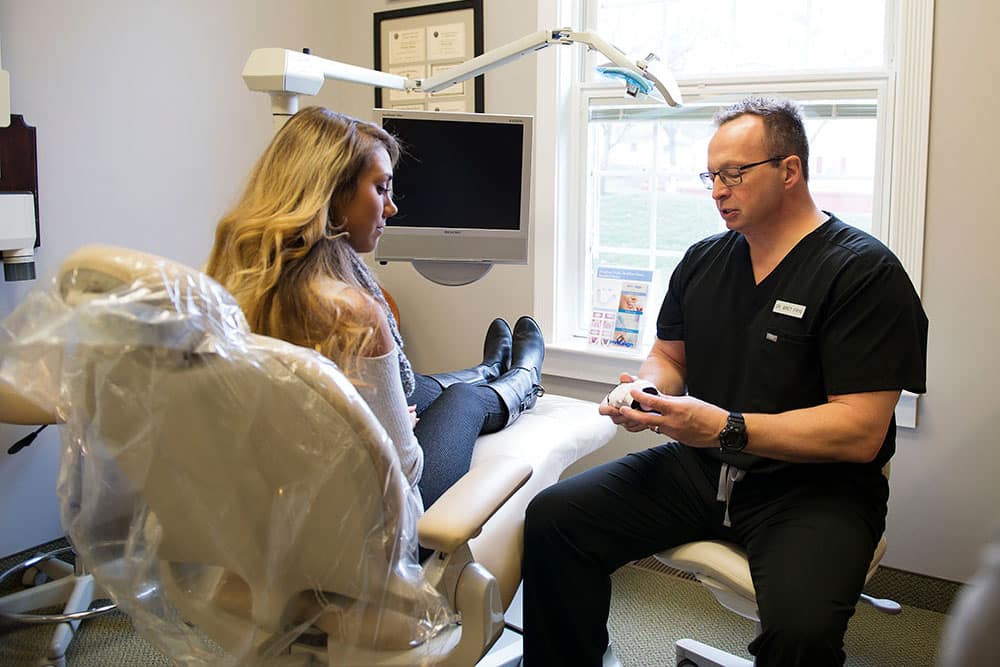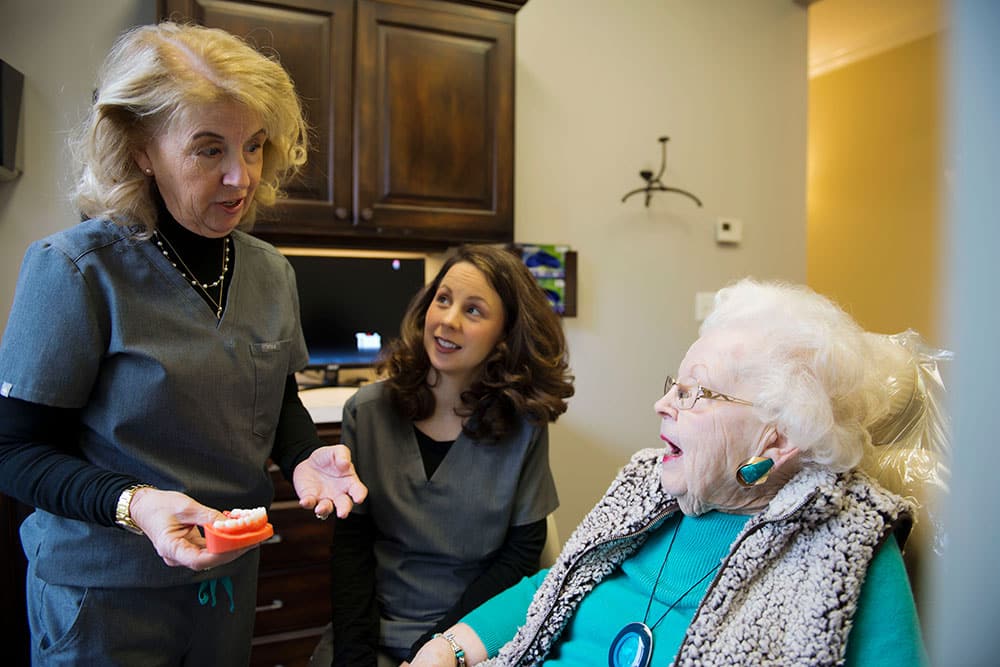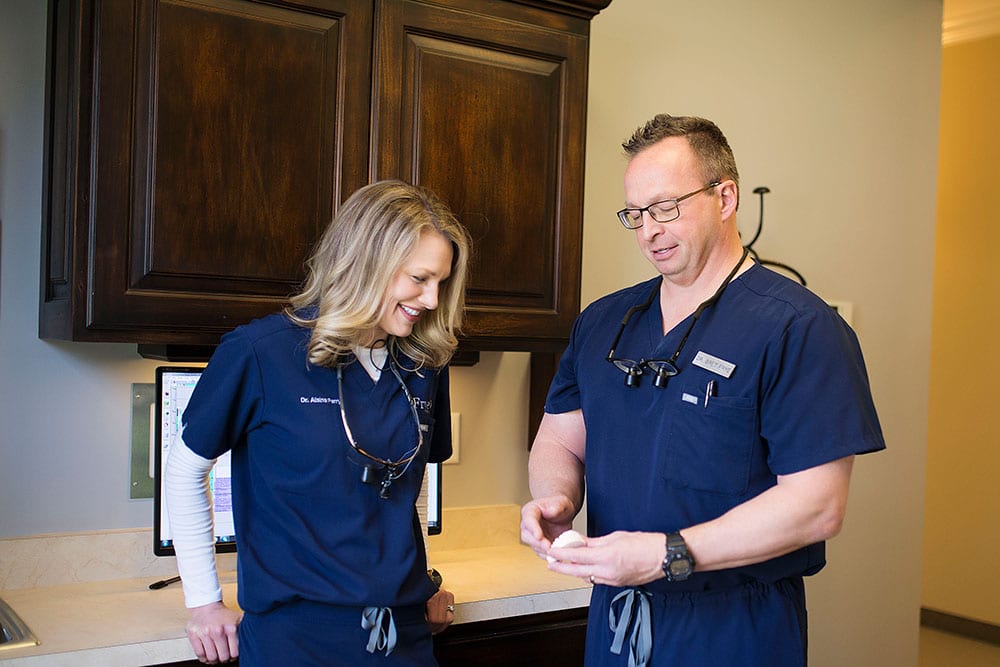 Cosmetic Dentistry
People choose cosmetic dental procedures for various reasons—to repair a defect such as a malformed bite or crooked teeth, treat an injury, or just improve their overall appearance. Whatever the reason, our ultimate goal is to restore a beautiful smile.
Invisalign®
Invisalign's® invisible, removable, and comfortable aligners give patients the beautiful straight teeth they've always wanted. And best of all, no one can tell you're wearing them. Using a series of customized aligners that are replaced about every two weeks, the teeth will move gradually until they have straightened to the their final position. Invisalign® is great for adults and teenagers. Learn more about Invisalign®.
Zoom Whitening
Frye Dental Group offers professional whitening services in-office and as at-home treatments. Using the Philips Zoom Whitening system, we help patients reduce discoloration and stains and achieve the bright white smile. Learn more about Zoom Whitening.
Veneers
Teeth that are badly stained, misshaped, crooked, or chipped may be improved by a veneer placed on the surface of the affected teeth. Veneers are thin pieces of porcelain or plastic cemented over the front of your teeth to change their color or shape. It is a pain-free, non-invasive procedure, providing dramatic results for the smiles patients have always wanted.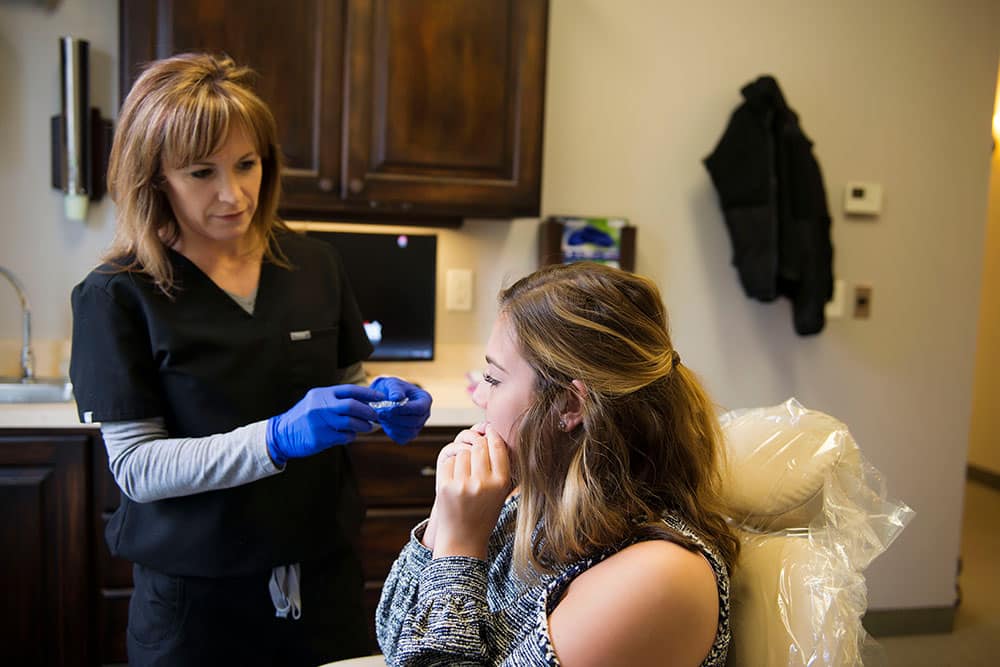 Children's Dentistry
Frye Dental Group offers dental care services to patients of all ages, including children and teens. Our highly-trained staff help even the youngest patients feel safe and comfortable during treatment. Whether your child needs preventative or restorative treatment, our goal is for them to leave with a healthy, happy smile.